HavenCon Proudly Announces the It's Your Haven Foundation for LGBTQ+ Geeks, Gamers and Creators. Sets Live Stream Event for December 8th and 9th.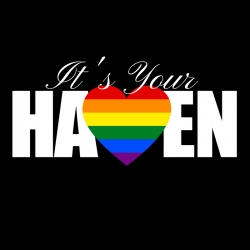 Austin, TX, December 05, 2017 –(PR.com)– HavenCon is excited to announce the launch of the It's Your Haven Foundation, based in Austin, Texas. The foundation promotes inclusivity and diversity at their annual HavenCon convention, which gives marginalized creators and attendees the opportunity to explore "geek" fandoms from their own perspectives while supporting each other and the communities they love.
These fandoms are havens for LGBTQ+ geeks, providing safe and accepting places to escape to in times of need, stress, and sadness. Our community finds comfort in comic books, video games, art, and pop culture – and in our fellow enthusiasts who love them, too.
The foundation will establish the Your Haven fund to provide financial assistance in getting diverse geek culture projects off the ground. Comics, video games, art, music, and TV/film creators can also utilize our events and our network of influencers to gain support for their projects.
"Our convention had the goal of giving back to the community from the first year, raising money for LGBTQ community groups such as OutYouth, TransLifeline and even individual creators crowdfunding new projects. We also donated to disaster relief funds during major Texas flooding and hurricanes as well as the devastating Pulse incident in Orlando," said Shane Brown, HavenCon's Executive Director. "We're really excited to build on that by launching a registered foundation that can give financial support to people who enjoy and create these things within and for our community as well as others in the larger LGBTQ+ community that may be in need."
To help support the Foundation, HavenCon Founder Shane Brown will be hosting a livestream event starting December 8th. The livestream will include gaming marathons, contests and live guest interviews. This stream can be viewed on Twitch at Twitch.tv/HavenCon.
For more information on being involved in and supporting these efforts, please visit their websites:
It's Your Haven Foundation: Foundation.HavenConTx.com
HavenCon convention: http://www.havencontx.com
For Memberships, passes, and sponsor opportunities: https://igg.me/at/RAYewWpF6vo
About The It's Your Haven Foundation and HavenCon
The It's Your Haven Foundation is a 501(c)(3), non-profit organization focused on building a community for LGBT+/Marginalized geeks and gamers online and in real-world events.
HavenCon focuses on the LGBTQ/Allies geek and gamer communities – coming together annually in Austin, Texas to show support for each other and for the industries we love!
Contact: Shane Brown – Executive Director, HavenCon
[email protected] (972) 979-1799
Contact Information:
It's Your Haven Foundation
Shane Brown
972-979-1799
Contact via Email
itsyourhaven.org
Read the full story here: https://www.pr.com/press-release/737651
Press Release Distributed by PR.com