Baseus Handheld Mini Inflator officially sees the light of day. As a device that all drivers should have aside in their car, by pushing the limits, Baseus has made this one compact and lightweight without compromising its essential performance.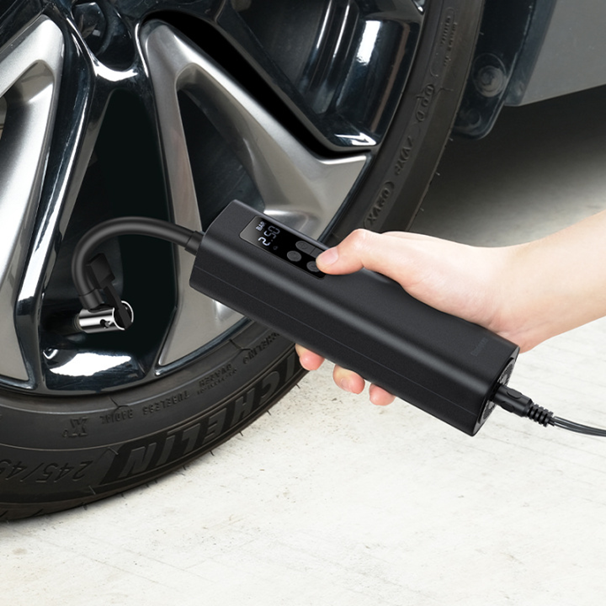 Instant inflation in 15s
High-speed permanent magnet DC motor running up to 18000rpm, you are free to expect 1 tire being inflated at a remarkable speed of just about 15 seconds, the flow goes up to 30L/min and with a max pressure of 150 PSI. Combining these specs, the metal cores and propeller with extra blades together, it offers up to 25-minute continuous use; inflate 3 tires of 175 (2.45bar) in 20 minutes. In addition, to ensure that the device works properly without overheating, the motor has a punched design for better heat dissipation.
Precise status at a glance
High precision tire pressure chip, LED display, one key tire pressure preset, auto stops feature, and up to 3 cooling systems all in this flashlight style air pump.
The smart chip calculates your tire's current pressure and shows it on the LED display, preset your desired tire pressure and let the device do the work. It will stop pumping air once your preset tire pressure is reached — an effortless experience.
Various adaptors for various valve
To offer full support to drivers passionate about riding bikes or ball games, the box includes a ball needle, Schrader valve and presta valve converter offering the convenience of inflating almost any item that requires pumping air into it in order to work as intended.
A flashlight built into the air pump
This inflator is made of lightweight material with a handheld design close to a flashlight. It actually does have the features of a flashlight and even comes with several useful functions in case of emergency for different scenarios. For instance, inflating a tire in the middle of the way with not much lighting or looking for your keys under the seat.
For detailed information: https://www.aliexpress.com/item/1005003458841456.html
About Baseus: Founded in 2011, an industry-leading brand in the consumer electronic field that integrates design, research and development, production, and sales. Baseus products have earned numerous top international awards in industrial design (Reddot, IF, iDEA, Golden Pin, Pentawards), available in more than 180 countries and regions around the world with 30+ online shopping platforms and up to 600 worldwide physical stores.
Press Contacts: Albert Ou– Public Relations Specialist
Email: [email protected]
Address: 4No. 2008 Xuegang Road, Bantian, Longgang District, Shenzhen,Guangdong, China