Super Energy series Max Car Jumper Starter — Baseus car accessory outstanding newcomer, a capacious power source with versatile performance to boost car dead battery or charge mobile devices when out and about.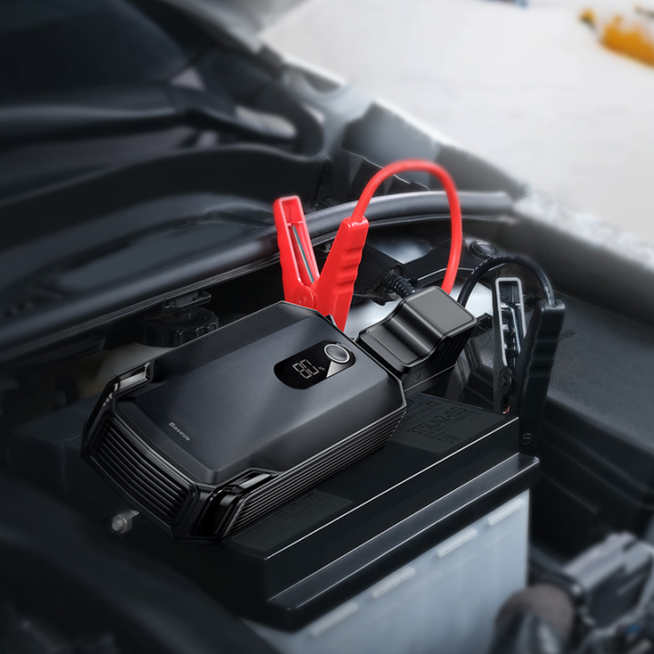 Jumpstarter is surely one of the last devices that come to our mind when talking about car accessories. Although the odds of usage are really low, not having one aside can be a second lightning strike if your car's battery dies in the middle of nowhere, and even worse if your phone runs out of battery.
We hope none of you ever have to deal with a dead battery, the chances are rare as mentioned above, yet, the relief it offers is far above expectations when the unwelcome case occurs.
By conferring superpower to this jump starter, drivers are free of worry to boost a 3L car's battery up to 60 times with a full charge and get back on the road after the unexpected happens, or to charge mobile devices during the trip. In lieu of following the line of its tier, Baseus crafted this 20000mah jump starter with a peak current of 2000A — a topping rate in this volume of capacity. With that range of current, it supports jumpstarting 12V/8L gasoline vehicles and 12V/4.0L diesel vehicles.
The Baseus car jump starter was designed to last for 2 years if idled after being fully charged, and to make it more than just an emergency device sitting alongside eating dust, the company has given it the property of a power bank allowing everyone in the car to charge most mobile devices through 1 USB-C port and 2 USB-A ports.
With full consideration of safety and extreme case scenarios, the designer of this product has decided to protect the cores with metal casing and make it keep working as intended even under a temperature of -40 to -60°C (-104°F to -140°F) with the support of technical know-how and rugged design. In addition, as being driven by curiosity to discover and develop more features, a flashlight with three lighting modes is built-in — illuminating the darkest moment.
For detailed information: https://www.aliexpress.com/item/1005003118120456.html
Press Contacts: Albert Ou– Public Relations Specialist
Email: [email protected]
Address: 4No. 2008 Xuegang Road, Bantian, Longgang District, Shenzhen, Guangdong, China