Every once in a while, there is glamorous celebrity to hit the headlines, but this one is different. No bling, no diamantes, no make-up yet she is flawless. Her glamour comes from the inside as we see it shine. Could this be what makes this modest doctor a mystery where all eyes are on her from sheer curiosity, or her genius mind and writing skills, or her natural beauty and smile?
Whatever it might be, a breath of fresh air has entered the world of stardom changing the status of being a celebrity. It is not always about the red dress, pink high heel shoes and flashy diamond rings which makes a star. Sometimes, it is a touch of finesse, class with inner beauty which is a unique combination that sees fans following their favourite person.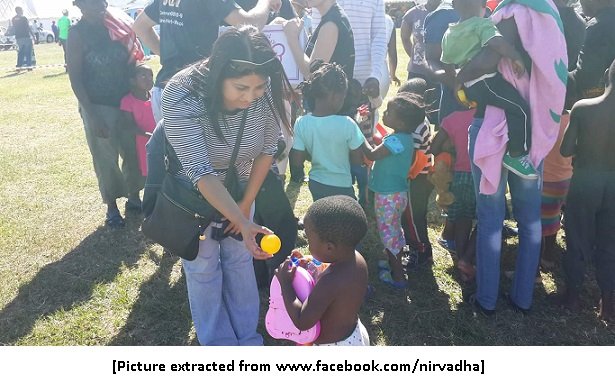 Dr Nirvadha Singh hails from a city in South Africa and is an author, medical doctor plus a specialist in public health medicine. She also has her own online magazine where she posts health articles to raise awareness of important health concerns to the community. She has spoken on several international platforms raising crucial health and peace topics of concern.  All of this Singh does on a voluntary basis which saw the noble doctor conferred the Ambassador of World Peace title known as 'Shantidoot' which is an honorary status in India to those who are peace messengers. The title was conferred upon her by the great Mahathma Gandhi's grand-daughter, Dr Ela Gandhi, in Rajasthan 2013.
Close sources have informed us that Singh is currently involved in producing her first movie which centres around social health issues. We are unaware of the finer details but can confirm that she is scripting her movie with a team of writers. Judging from her book, You the Journey Begins, we are sure to find inspiration in her movie.