Being a businessman is a tough ask and you need to have believe on yourself before starting any business. To be a successful entrepreneur, you need to be highly passionate and dedicated towards your job. It has been a fact that the next generation would always be better than the earlier one. This has been proved repeatedly with next generation kids achieving feats that an adult might struggle to achieve.
Franchise Mall established in 2004, is a collection of Food Franchise Brand from a wide range of best culinary like : Sachiko Sushi, Joe Coffee, kingdom Of Meatball, Grill Meatball, Red Bowl Noodle, Almondega Chocado, Monster Burger, Hongkong Noodle, Happy Waffle, Honey Potato Ball, Tofu Crispy, Jelly Jo, Pancake Crispy, Bakso Kaget etc.
You can see, one of added value from Franchise Mall is each Franchise Brand will be represented or symbolized by so many licensed cartoon character that can be used as merchandising, animation, souvernir, games character, etc.
All of the license cartoon character is made and produced by Rainbow Intr'l, a holding company from Franchise Mall.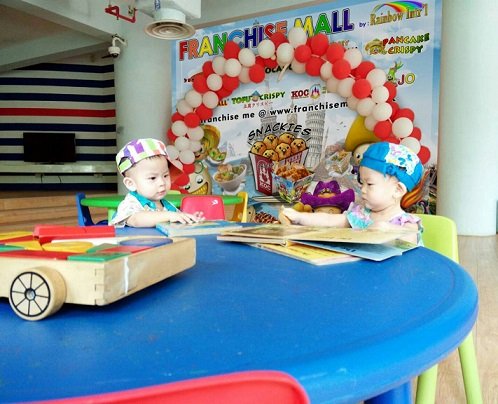 Joe Clarence & Jocelyn Calista are two of the business men that have proved this thing pretty right and now they are offering you an opportunity with the Franchise Mall partnerships – An Reliable and Trustworthy's Company under Rainbow Intr'l Group that have proven by winning so many awards every years. You can easily pick a food worldwide brands from this Famous "Franchise Mall" to help yourself to get a glorious chance to propel in the business world.
This genius kidspreneur from 6 years old  started manage Franchise Mall  business with the coaching they receive from their parents. They made their fortunes in technology and possess the right skills needed to effectively run their business. They have also developed their business quite well and now, aim to serve globally. They have requisite skill  to run their business successfully along with managing their school properly. Their hard work in both the arenas has been the reason behind striking a balance between professional and academic life.
Their success story now have been followed by their beloved twins sister & brother "Josch Forbes & Joschika Faustine", the two brilliant twin babies have mastered swimming & underwater since four month years old.
As an successor of Franchise Mall, their brother & sister Joe Clarence & Jocelyn Calista are very proud make a 1st Birthday Party for them using Franchise Mall Theme as a decoration. You can see how rousing the party was.
Why choosing Franchise Mall as Birthday Party Theme ? Except can become money machine for their business, also can introduce Franchise Mall's License Characters to the twins for future developing. One work, two job done, how brilliant they are.
These four creative and brilliant kids inherit DNA entrepreneur from their parents.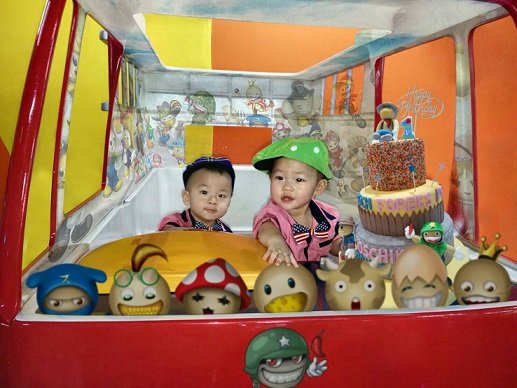 Franchise Mall was established way back in 2004 and in the past 12 years, it has made quite a name for itself and has became a reliable supplier in the world wide markets.The reliability associated with the brand makes it even easier for you to make your franchise popular and make some good money. It is just like a golden opportunity for you to make yourself a distinguished business person in the world wide.
Other benefits of getting involved in this business:
There are several other benefits in thus business which makes it a very wise statement for you.
Here are some of the benefits getting involved with Franchise Mall :
With the food sector, the demands are never going to drop down. This sector presents you with stable opportunities for you.
When you are associated with a known brand, the traffic to your shop will increases quite smoothly.
The fact that Franchise Mall make use of the animated cartoon characters design as an added value to make a differences appeal to the customers which can also be befitting fort you as a franchise owner.
Last but not the least since this businessneeds medium scale investment makes it easier for you to manage the investment
Any investors who interested for developing their License Character are welcoming to deal with Joe Clarence & Jocelyn Calista